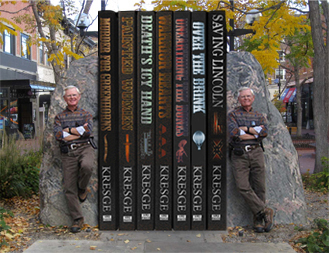 UNEARTHING THE BONES
The thrilling fifth chapter in the Warbonnet Historical-Mystery Series by Robert Kresge
---
Murder, Indian refugees, and a kidnapping bedevil Marshal Monday Malone and school teacher Kate Shaw. Monday is sent out of town by the county sheriff to investigate a dynamite murder in the camp of dinosaur diggers. Working separately, their on again-off again romance suffers strains when Kate receives an unexpected marriage proposal and is appointed acting town marshal in Monday's absence.

Reunited briefly in Warbonnet, the pair shelters an Indian family on the eve of renewed Sioux hostilities with the US Army. Can they find a kidnap victim before time runs out?
~~~~~~~~~
Follow the trail to the Warbonnet Mysteries here.